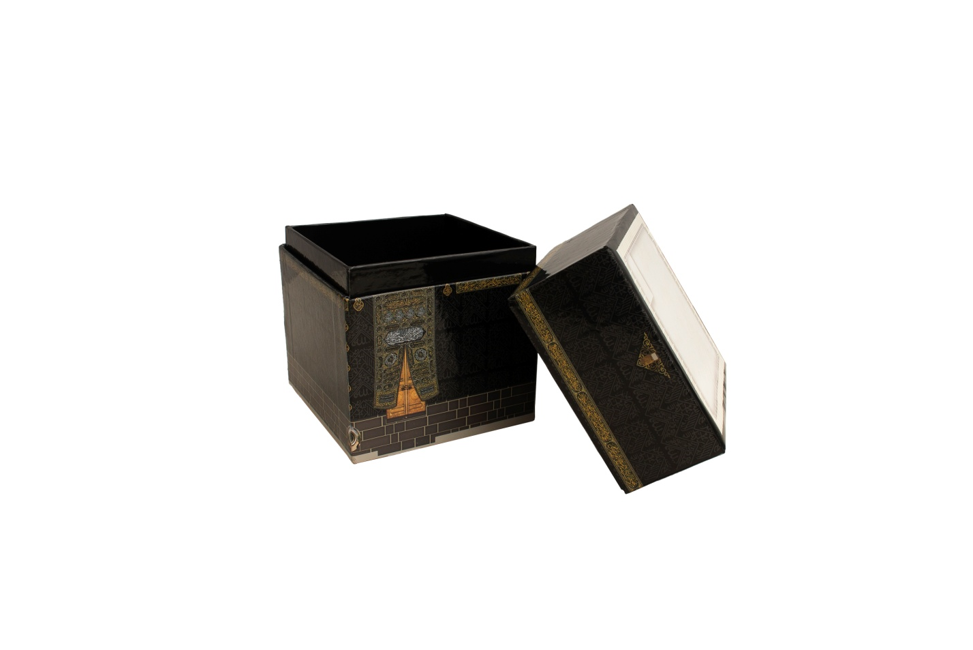 Packaging Klaten – PT Putra Nugraha Sentosa is a company engaged in commercial packaging and printing with high-speed machines.
Click now for more catalogs
Catalog – 3 Box Miniatur Ka'bah
In making the Kaaba miniature box, we use grayboard as raw material, the box can also be called a hardbox / gift box.
Hardbox is a form of packaging for both products and souvenirs made from recycled (on average) recycled paper (paper waste) which is processed in such a way that it becomes a sheet with a certain thickness. This type of paper material has a hard, stiff, and thick character.
Packaging Klaten – As a basic material in making hardboxes, in Indonesia itself there are several types of paperboard in circulation, there are:
Kappaboard, this type is one of the most expensive than other types, mostly imported products. It has various thicknesses, the average being sold starts from 2-4 mm. Full plano size 73 × 104 cm, light gray color. This type of paper is the smoothest, thickest, odor free and not easy to bend even though it is processed by hotprint/stamp foil though. And this paper has FSC® PAFC Certification, EN71-3 Safety for Kids & Games Hydro Processing & Produced Without Chemicals Safe for Food, Kids, Games.
Greyboard, this type of paper is widely produced in the country. As the name implies, this type of paper is dark gray, circulating in the market on average has a thickness between 1-4 mm or grayboard code number 40-25, each number represents its thickness, the smaller the number the thicker the paper. The whole plano size is 66 x 77, the material is thick, stiff, smooth, although not as smooth as kappaboard, solid and odor-free.
Yellowboard, Same as Greyboard but has a slightly different character, this type tends to be softer or not as hard as greyboard and tends to get bumpy easily if it's in a humid place. Besides having a dirty yellow color, the size of the whole plano is also smaller, namely, 65 x 75 cm, and this paperboard also has no smell.
Gemboss, there are 2 types of this one pure gemboss and laminated gemboss, or coated with kraft liner paper, or yellow cardboard on both sides. The raw material for this type of waste is paper waste at the bottom, so sometimes there are elements of plastic waste and a mixture of other waste in it. Gembos has a rougher surface, is uneven when touched, has an inconsistent thickness, is stiff and tends to have a pungent odor. This paperboard is the cheapest among the others.
Until now, we use gray board as the basic material in making hardboxes / hampers boxes to get premium, neat and strong results.
The picture above is an example of a Kaaba miniature box with the following materials and sizes:
Size : 25 x 18 x 4 cm
Material : Art Paper + Linen Hitam + Grey Board
PT Putra Nugraha Sentosa opens custom packaging according to your business needs, please contact us at:
no : +6281225083759
email : mkt.putranugrahasentosa@gmail.com
note : You focus on taking care of customers, while PT Putra Nugraha Sentosa will focus on building your business brand.